India vs Afghanistan Highlights: India beat Afghanistan by 66 runs in their Super 12 match of T20 World Cup here on Wednesday to keep their slim chance of reaching semifinals alive. Openers Rohit Sharma and KL Rahul hit half centuries to help India post 210 for 2 after being invited to bat and then restricted Afghanistan to 144 for 7 in their 20 overs.
Mohammed Shami took three wickets while Ravichandran Ashwin got two. Jasprit Bumrah and Ravindra Jadeja grabbed one wicket each. For Afghanistan, Karim Janat top-scored with 42 not out while Mohammad Nabi contributed 35.
Earlier, Rohit (74) and Rahul (69) stitched 140 runs from 14.4 overs for the opening wicket to set up India's big total. Hardik Pandya and Rishabh Pant Pant remained not out on 35 and 27 respectively. For Afghanistan, Karim Janat and Gulbadin Naib took a wicket each.
Much better wicket to be fair. We spoke about the fact that in the other games, if we just had two overs of free-flowing batting, then that sends a message to the opposition that we are going to put you under the pump. When we do that, we know how we can play. Sometimes, you do fall to the pressure and have to accept that. T20 cricket is a very instinctive game, in batting, bowling and decision-making. We do make decisions on the go. Top three is mostly settled unless situations like today when the openers batted all the way through and the power-hitters were ready. We don't always decide early to go hard, but we do back ourselves and when we do get going, we know what we can do.
The idea was to go after it, and get off to a good start, which didn't happen in the first two games and lay the platform for the others. Exceptional batting from Rahul, and that partnership was vital. We were prepared to field first, and it was a good pitch to bat on. Getting to a respectable total was important, and the NRR could come into play so we had to win by a good margin, so glad we got that. Today it was necessary to get off to a good start, and that's not my natural game – I usually like to get in. So I made an effort to settle in, play cricketing shots, and put up a big total.
Karim Janat would know the pain of being struck for sixes. The other night, Pakistan's Asif Ali had smeared four in an over of his. But Janat knows a bit about hitting sixes too. In a lost cause against India, he struck arguably the most ferocious of all sixes. Shardul Thakur had just strayed into his body on a fuller length and he just moved his front foot away and whipped the ball over the leg-side with a furious flick of his bottom hand wrists. A semi-helicopter shot that was struck so high that it almost vanished in the flood-lit sky. Like Asif, he comes with a six-hitting reputation striking one in every 10 balls he faces in T20 cricket. Maybe, one night, he will find his night of retribution too by hitting sixes and not getting hit with sixes.
Last over now. This is all but over. AFG were valiant but this was too huge a mountain to climb. And Janat starts with a 4. 3 off the next 3 balls. And a 6 to finish by Janat. India win by 66 runs in Abu Dhabi.
India are off the mark ✅#T20WorldCup | #INDvAFG | https://t.co/ZJL2KKL30i pic.twitter.com/llszZPMNtH
And what a blinding catch. Oh my god. That was a beauty. Two wickets in quick succession for India as Afghanistan struggle. But they are now checking the catch. No. It's given not out. Hard luck for Jadeja. Jadeja has to run in a long way from the boundary, and he sprints there in super-quick time – not too many would get there as quickly. He still needs to dive full-length to reach it in the end, and replays show that he's held on to the ball but brushed it into the ground upon landing. No wicket, but what an effort! And Rashid is taken now. Out for a duck. AFG 127/7 after 18.3 overs.
The 18th over is about to begin. The last two overs had some boundaries. 11 off the 17th and 10 off the 16th. And they have started this over like a thunderstorm. 4 and 6 off the first 2 balls. Shardul is getting hit. 16 off this over. AFG 125/5 after 18 overs.
Bumrah in to bowl the 15th. A blistering throw from Jadeja and direct hit but seems like Nabi is in. Great all round bowling. 3 runs off this over. Afghanistan struggling. AFG 88.5 after 15 overs.
14th over begins. The last over went for 10 runs. AFG need to hit big shots but they don't have enough batters for those and now they are running out of overs. It's a weird conundrum. Ashwin is bowling this one. Just 5 off it ultimately. AFG 85/5 after 14 overs.
Is this another wicket? Nabi drives uppishly, and Rohit dives forward and to his right at extra-cover. Comes up with the ball in both hands, but he isn't sure if it carried… The umpires are having a look now. And no, it's not out. And Zadran is gone in the next ball. Ashwin takes it. AFG 69/5 after 11.5 overs.
11th over starts. Shardul to bowl. 4 runs in the first five balls. Turning out to be a good over. 5 off it ultimately. Afghanistan really need to get a move along. AFG 66/4 after 11 overs.
10th over starts. And Gulbadin goes. Big appeal and this looks plumb. Carrom ball, full and headed for middle stump. Naib gets down for the sweep and cops this on the back thigh, right in front of middle stump. He won't bother reviewing that. His struggle against spin is over. AFG 59/4 after 9.3 overs
Plumb!
Ravichandran Ashwin traps Gulbadin who is gone for 18. #T20WorldCup | #INDvAFG | https://t.co/ZJL2KKL30i pic.twitter.com/yZstZE4A94
Afghanistan lose their third as Hardik takes the catch. Goes up miles in the air….has it gone long enough??? Nope! Hardik circles under it and takes the skier just near the ropes. Jadeja get one now. AFG 49/3 after 7 overs.
Last over of the powerplay. Starts with a 4. Hardik was bowling. And another boundary to follow in the 4th ball. 9 off it. AFG 47/2 after 6 overs.
The 5th over starts. Shami in to bowl his third over. And Gulbadin hits a 4 in the second ball. And two sixes follow suit. Afghanistan are giving this a hell of a chase. And 4 more to end it. 21 off it. AFG 38/2 after 5 overs.
And Zazai also departs. Bumrah gets his wicket. Bagged by mid-on running to the left. Thakur calm under it. Offcutter at a good length on middle stump, gets low and looks for the slog sweep again, but ends up slicing this. AFG 13/2 after 3.1 overs.
Zazai follows suit.
Bumrah gets his first scalp as Afghanistan lose their second. #T20WorldCup | #INDvAFG | https://t.co/ZJL2KKL30i https://t.co/VRhSULtq3P
And Shahzad is gone. Afghanistan lose their first wicket. Taken at mid-off. Shahzad looked out of sorts in his short stay. This is good length and swung into his legs. He's static as he closes the face to try and flick in square leg's direction. Gets a leading edge that's pretty easy for Ashwin. AFG 13/1 after 3 overs.
Hazratullah Zazai and Mohammad Shahzad are at the crease. Hazratullah Zazai is on strike. Shami will open the attack. And the second ball is hit for a 4. And a 6 to begin the second ball of the second over. AFG 12/0 after 2 overs.
Ironically, the one time Mohammad Shahzad – he, of, 'must I move?' fame – moved considerably, to gather a ball in the penultimate over, he collided with Hardik Pandya who was haring down the ground for the second run, and the pair tumbled on the pitch in the most awkward manner. Needless to say, it took an eternity for Shahzad to drag himself back on his feet. And with a little help from Pandya.
Mohammad Shahzad takes minimalism to its extreme. The Afghanistan wicket-keeper moves from his perch only when it's utmost urgent. He has to, between overs — occupational rigour — or when pressed into receiving throws from the fielders. On both instances, it's a stroll than a sprint. No urgency, no fuss, not even a faint attempt at lunging or diving. If another fielder can collect the ball, he always lets them be, even if he's closer to the ball than they are. Even when the ball strays to the leg-side, he doesn't move in sync with the direction of the ball. He just plants his foot and flails his arms. But he rarely fumbles or drops a catch. Why move when you needn't, could be his logic. Just like his logic for not dieting. "Jitna lamba chhakka Kohli maarte hain, main unse zyadaa maar saktaa hoon, zaroorat kya hain unki tarah itna diet karne ki (I can hit bigger sixes than Kohli so why do I need to follow his diet?)," he said. Not that he has not made any attempt. But found himself in trouble, as a fat-loss supplement contained a banned drug. After that, he quit all his efforts to lose fat. "Dekhiye hum fitness bhi poori karte hain aur khaate bhi poora hain (I work a lot on my fitness but I don't compromise on food)."
The 20th over starts. Pant has started hitting them as 200 comes up for India. That somewhat takes care of the NRR. A 6 and a 4 to start the over. And Hardik has now hit one. What a shot. And a bye to finish. IND post 210/2 after 20 overs.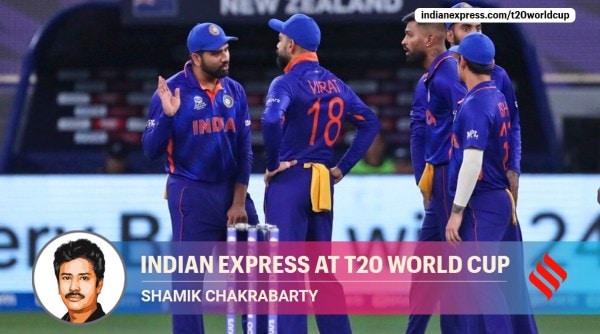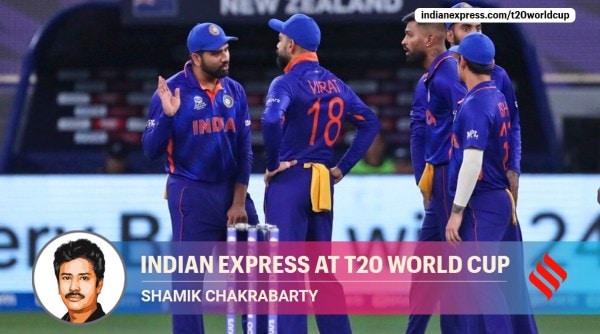 India's Rohit Sharma talks to captain Virat Kohli after the fall of Zealand's Martin Guptill wicket during the Cricket Twenty20 World Cup match between New Zealand and India in Dubai, UAE, Sunday, Oct. 31, 2021. (AP Photo/Aijaz Rahi)
How does a team bounce back from two morale-crushing defeats when its cricket is not brave enough, by Virat Kohli's own admission? How does a team return to winning ways when its bowling unit has taken only two wickets in two matches? How does a team motivate itself knowing that its fate at the T20 World Cup is no longer in its own hands? Inclusion of fresh faces could help; some new players coming into the playing eleven against Afghanistan without carrying the excess baggage of back-to-back losses. Then again, it's a double-edged sword. Axing is easy, the message it would carry might not be palatable. (READ FULL STORY)